.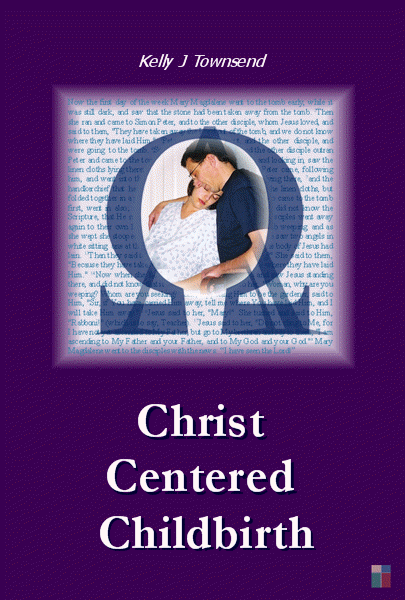 This book will equip you to overcome your fears, look to the scriptures for your strength, trust in the Holy Spirit for your comfort, and glorify Jesus Christ during your birth!


A unique look at pregnancy from the spiritual and supernatural perspective, this book is unlike any other. Not only will you get the details of labor and delivery, you also will get a glimpse into the wonderful mysteries that God has placed in the process itself. Focusing on pregnancy as a parable, great truths can be learned about the nature of God through birth.
<TITLE>Supernatural Christian Childbirth</TITLE>
My mother, sister, and nurse were so amazed. They said,
"I have never seen anything like this." Nicole
Read Testimonies About Christ Centered Childbirth
Christ Centered Childbirth is an in-depth look at the scriptural aspects of childbirth. The book is full of scriptures directly from God's word to encourage women to trust in both God and in the miracle of Christ-Centered birth. This is a must-read for those pregnant women and their partners and as well as professionals who want to focus on the spiritual aspects of childbirth.
Paulina (Polly) Perez - Author of "Special Women" and
"The Nurturing Touch at Birth."


THIS BOOK WILL HELP YOU TO -

Bring Jesus into your birth

Have a Supernatural Childbirth

Overcome fear

Organize a Christian Childbirth Bible study

Learn about the process of Christian Childbirth

Learn Biblical coping techniques for labor

Learn comfort measures for Christian Childbirth

The main purpose of Christ Centered Childbirth is to bring you closer to Jesus Christ during your pregnancy and birth. If you desire to learn how the Bible can help you have a more rewarding birth experience, then this book is for you!

International Buyers

.



Many international buyers choose the electronic version of the book, simply to avoid the high cost of shipping. For $7.00, you can quickly have this book in your inbox!